Instructions for downloading MalwareBytes.

Updated 4/23/2011
Important Notice: Before running Malwarebytes or any other program that has the potential to "cleanup" you computer by deleting or quarantining files, it is HIGHTLY RECOMMENDED that you first set a "Restore Point" using Microsoft's "System Restore" utility. More on System Restore.
Key Points
We have 'fixed' a variety of problems on a number of computers by running a scan with MalwareBytes and having it repair or remove infected items
Malwarebytes often detects items that were MISSED by other AV programs running on the computer, such as Norton and Shield Deluxe, etc.
Malwarebytes does not interfere with any existing or running anti virus software you may already have installed
Malwarebytes does not RUN all the time, only when YOU tell it to..
Download instructions
Go to www.malwarebytes.org
Click on the above link or COPY and PASTE it into the Address Bar of your browser. Do not use the browser's SEARCH line - use the ADDRESS (URL) main input on the browser.
You should get the window that is partially shown below: (The actuall screen may vary somewhate, as it changes from time to time, but should be similar to that shown below.)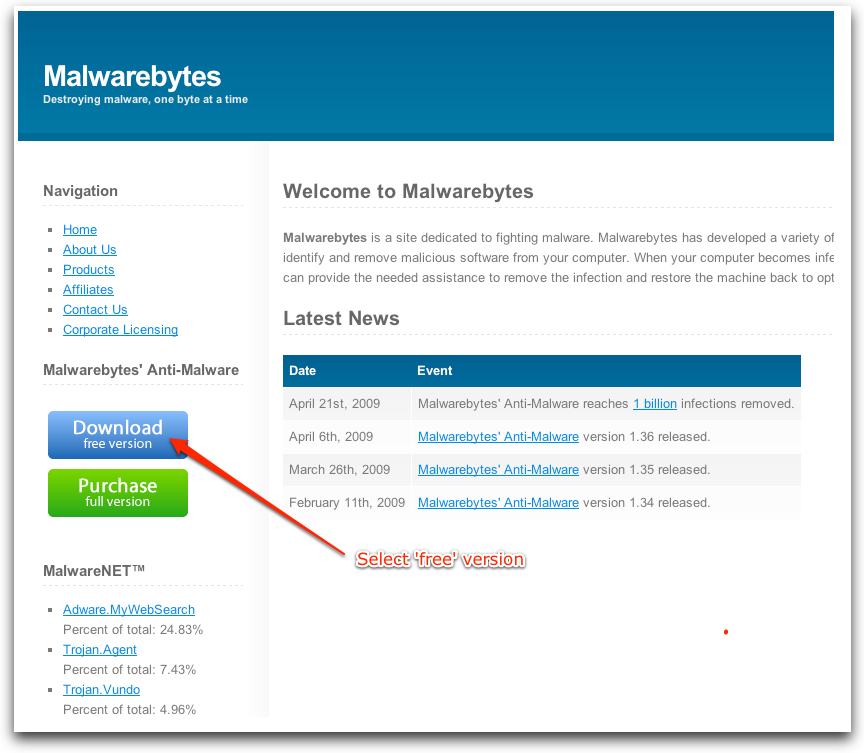 Click on the "Download free version" blue button.
You will probably get redirected to another dowload website, either MajorGeeks.com or Cnet.com - either site is "safe", but MajorGeeks is VERY confusting (at least to us) - they try to get you to click on all sorts of other stuff they are tyring to sell.
If you get MajorGeeks, we recommend going directly to CNET Download

Go to: http://download.cnet.com/Malwarebytes-Anti-Malware/3000-8022_4-10804572.html
If the above link does NOT work: Go To: Cnet.com --> Downloads --> Windows Software --> in "The Dowload Software Finder" select:
Platform=Windows
Category=Security Software
Price=Free
Click "GO"


You should get the following OR SIMILAR screen - partially shown below: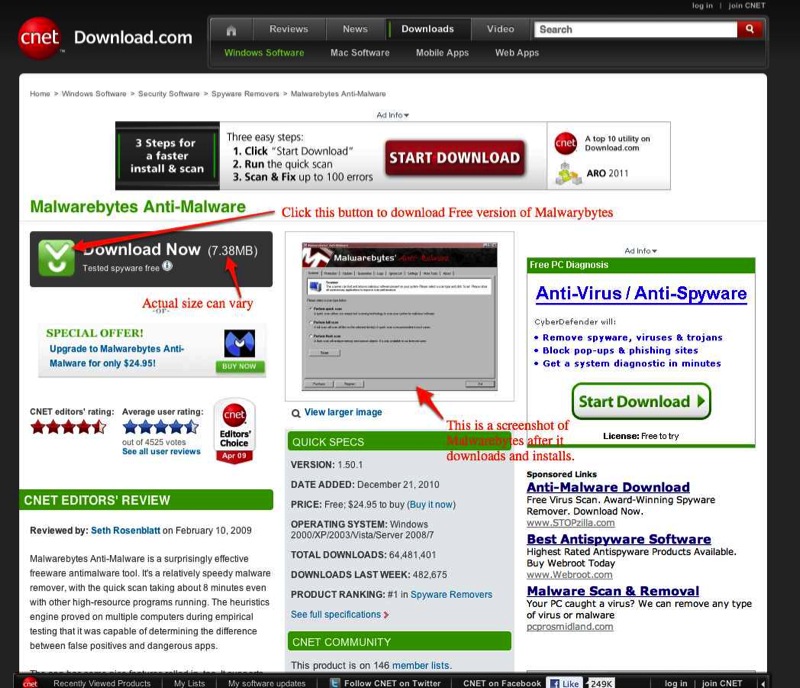 Click on the "Download Now (xx.xx MB) button toward the left (as shown above).
Ignore the Anti-Virus 'Start Download' button that appears toward the right of the screen.
In Windows, you will probably get another pop-up window for the download.
You can either SAVE the program, or select RUN - easiest is to select RUN
THEN - accept all the defaults.
MalwareBytes will start running automatically (if you just keep clicking 'next' and taking all the defaults.)
When MalwareBytes runs, you will see the MalwareBytes Window -
just to be sure click the | Update | TAB (at the top) and then click the [Check for Updates] button.
It will probably either download and install some updates or say you now have the latest.
Then, in the MalwareBytes Window, Click the | Scanner | TAB , Select "* Perform full scan" RADIO and then click the [Scan] button.
It will take some time - if MalwareBytes does find things, it is generally best to let the program remove the infected items, in my experience.
MalwareBytes will often find infections that other programs such as Norton and Shield Deluxe (and more) 'miss', or do not detect.
It's a good idea to run MalwareBytes periodically or when you notice a symptom or get a 'bad feeling' or suspect you may have clicked on something that is potentially harmful.
The FREE version does NOT update and does NOT scan on its own - you will have to perform this manually
MalwareBytes does not interfere with other exiting and installed Internet Security / Anti-Virus software.